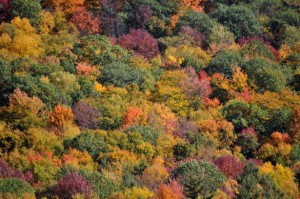 When autumn winds excite the leaves
And reapers gather in their sheaves
Earth's abundance all in store
Enough for us and many more
Raise the song of merriment!
It's the season all are kings
Golden shines through parting green
Gold hangs on trees! Gold hangs on trees!
No lock, no door, no safe, no keys
Raise the shout of merriment!
Corn stalks ripple like the sea
Sun explodes with laughing sheen
Peace is carried on the air
All men live without a care
Raise the glass of merriment!
Let dance explode from shore to shore
Let men with stirring hearts make song
May autumn last forevermore
And grief begone